Content marketing trends have been on the simulation in every possible scenario, believe it or not. The philosophy is basically organizing gaps in the market you can fill with operations until you get a semblance of firm grounding. This concept applies in logistics throughout the e-commerce stream, active market, fintech, etc.
However, the real key lies in visualizing an Al-powered robot that doesn't have any human control. It may be able to run for a while, but there would be no actual sensory feedback that can be acted upon. Hence, you need people, and only people can define marketing trends that can determine the failure or success of your marketing campaign.
This is where the definition of crucial content marketing trends for 2023 have been interpreted which you can head on in your business as the specific landing touch points for a successful run!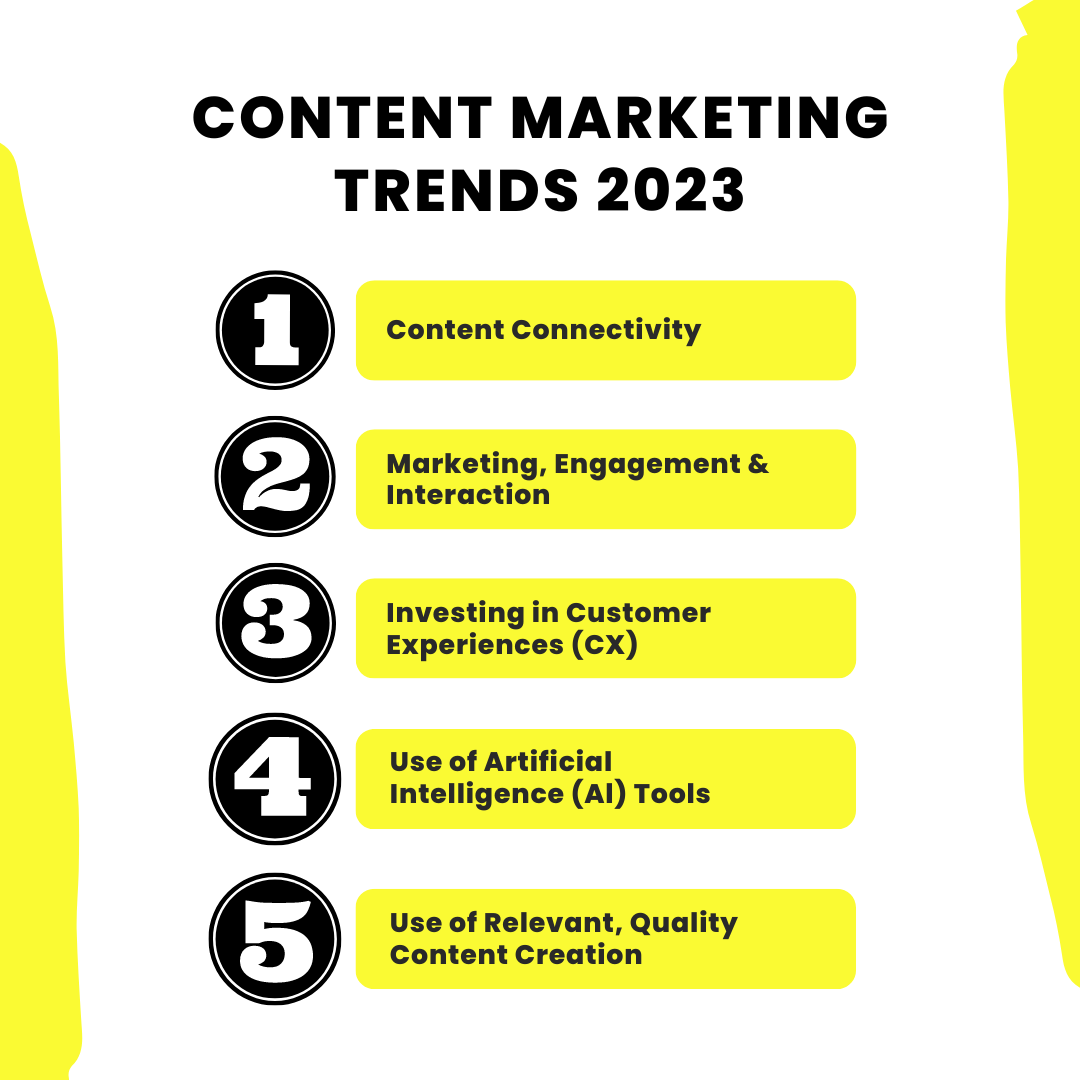 #Trend 1 – Content Connectivity
People want to see the brand in all its truffles and glory. They want the inside story and how best you can present your content on different socials with equal engagement. So, if everything is opportune, there will be a drive in conversions and leads for your marketing audit. More to the point, potential brand loyalists would want to immerse themselves in an e-communal environment where they are able to communicate freely with you.
The following are some of the few expert ideas that you can commit to content-wise on socials:
Be empathic – You don't want to approach a direct stance where you are only interested in selling your brand as a priority, but rather integrating your performance levels by tapping into the audience's mindset. You should gauge current circumstances and be considerate of your consumers' interests. There is nothing worse than a content-savvy deviating away from the acceptable content design, just because of ulterior motives.
Use context – Simply put – Combine your content creatives knowledge with context building! You should reveal a vast array of content that depicts a sound brand seller who actually knows what the customer wants in a specific segment. This will help to leverage the brand in the marketplace and build trust.
Collaborate with the audience – Consider your audience to be a potential co-creator and be surprised! There is nobody who knows brand mentality best than the people you sell to. It is recommended to do one of these social visits where you can pick up on new requests spiking up within a segment.
Establish two-way communication engagingly – You won't be remembered if you only engage on socials once! According to HubSpot, social media is ranked as the most popular marketing platform for 44% of marketers, which says a lot about how much we should use social to create impressions.
#Trend 2 – Marketing, Engagement & Interaction
When we confront the facts, traditional marketing techniques feel one-sided and impersonal at best. But when we enter the world of interactive marketing, engagement, and creativity are at the forefront of every campaign
Interactive marketing is all about connecting with your audience in a meaningful way, using tools such as social media, gamification, and personalized content to create an immersive and memorable experience. By involving the customer in the marketing process, you can build stronger relationships, generate buzz, and drive more sales.
Imagine a social media campaign that invites users to share their own photos and stories related to your brand, or a mobile game that rewards players with discounts or exclusive products. The possibilities are endless, and the results can be truly game-changing.
Benefits of Interactive Marketing:
Improved Conversion Rates: Interactive marketing allows potential customers to make purchases quickly, thanks to effective calls-to-action, such as "purchase now" or "add to cart" buttons on digital ads or websites.

Enhanced Audience Engagement: Engage your audience by providing a unique experience through tactics like personalized content, online quizzes, and interactive videos. If your audience is delighted, they're more likely to become loyal and share your business with others.
Immediate Feedback: With interactive marketing, you can quickly gather feedback from your audience through quizzes and polls. This feedback allows you to improve your products, website navigation, and overall customer experience, which is crucial to success and winning smartly.
#Trend 3 – Investing in Customer Experiences (CX)
Investing in customer experience is not just a smart move, it's essential in today's highly competitive business world. Customers have more options than ever before, and their loyalty can be hard to earn and easy to lose. By investing in customer experience, businesses can create meaningful connections with their customers, build brand loyalty, and ultimately drive growth. So, whether you're just starting out or looking to take your business to the next level, investing in customer experience is a strategic decision that can pay off in spades.
Why Should I Invest In Customer Experience (CX)?
Investing in customer experience (CX) can improve customer satisfaction, loyalty, and retention, leading to increased profitability which is partially attributed to positive word-of-mouth and top-of-the-line reviews.
Margin investments can reap benefits double-fold in the future as a further pro tip.
A strong CX strategy can differentiate a business from its competitors, creating a competitive advantage in the market.
CX can provide valuable insights into customer behaviour and preferences, which can inform business decisions and improve product offerings.
In today's digital age, a strong online CX is essential for success, and investing in technology and digital channels can enhance CX, improving the customer journey and driving business growth.
#Trend 4 – Use of Artificial Intelligence (Al) Tools
In the world of content marketing, the race to engage customers and stand out from the competition is relentless. Fortunately, Artificial Intelligence (AI) is providing marketers with powerful tools to gain an edge. With AI-powered chatbots, personalization algorithms, and predictive analytics, marketers can create and deliver highly targeted content that resonates with their audience. The result? More efficient campaigns, increased engagement, and better ROI.
AI can help you understand customers and create highly personalized recommendations and messages.
AI can automate small content requirements such as generating data-specific content for social media posts, brief reports, news updates, and notifications.
AI can generate fresh keywords and topics for content creation and improve SEO results.
AI can improve the performance of social media content by analyzing customer behaviours, sentiments, and preferences.
AI-powered chatbots can enhance customer experience and improve the customer buying journey by providing relevant information and eliminating delays in response.
#Trend 5 – Use of Relevant, Quality Content Creation
Relevance marks high in the Google agenda as if Google were a person. The Google Engine will sift through tons of criteria before categorizing your published content in terms of quality, SEO, and premier data which match up to relevance in a Search Engine Results Page. You might have potent statistics and a strong KPI but you may be lacking in a 'brand edge' which ultimately affects your conversions.
Content calendars mark as progressive so each phase will have upgraded, unique content that wasn't experienced prior. Hence, it is always recommended to screen content on a regular basis or modify your marketing strategy to meet new conversion rates.
As we look towards 2023, the world of content marketing is evolving rapidly, with new technologies and consumer preferences shaping the landscape. From interactive marketing to investing in customer experience, businesses must stay ahead of the curve to capture the attention of their target audiences. It's no longer just about creating content, but also about building meaningful connections with customers through empathy, collaboration, and personalization. By leveraging the power of AI, businesses can enhance their marketing strategies, while also embracing social media as a key engagement platform. As we move forward, staying up-to-date with these key content marketing trends will be essential for success in 2023 and beyond.
So, to upgrade your B2C content marketing strategies, contact us for information about our services!
Got questions? Reach out to us