Creative Innovation for Nurturing Generations
Kabrita is a subsidiary of Ausnutria, a 100-year-old dairy giant based in the Netherlands that serves the international market with high-quality infant formula products. Kabrita is goat-milk-based infant formula that is aimed to offer a gentle transition from breastfeeding to bottle feeding.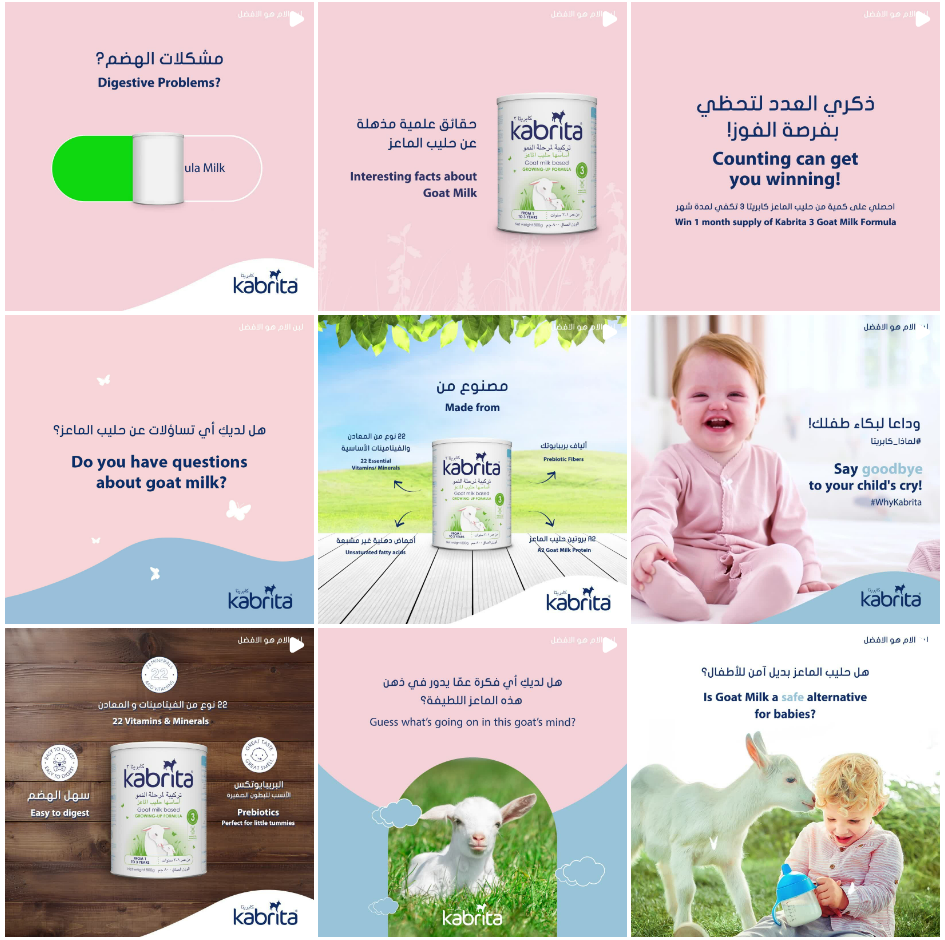 THE CHALLENGE
When the Kabrita Arabia team approached us they were struggling with unoptimized content that was not catered to their right target audience, which was primarily the local segment in the UAE and KSA. They had a basic social media content layout and were looking to increase their brand awareness in a highly competitive market of infant formula.
The main challenge of this project was to position goat-milk-based infant formula as an alternative to the more popular options of cow-based formula. Also, translating and adapting the content to suit local preferences while keeping the brand's tone of voice intact was under focus. Since Kabrita is a health and nutrition product and caters to infants and toddlers, it required careful deliberation to abide by the do' and don'ts of publishing such content on social media.
The objective was to-
Raise awareness about the brand in the UAE and KSA markets
Build brand consideration and recall amongst parents and caregivers, primarily mothers, on choosing infant formula
Build an online community of mothers, parents, and caregivers around the brand
Educate the audience about the benefits of goat-milk infant formula
Create visually appealing and shareable content
Be thoughtful and informative with community management to handle responses
Work with influencers to amplify the reach and awareness of the brand and to source user-generated content (UGC)
Generate organic sales enquiries through social channels
Impact increase in sales by directing the audience about third-party product shop fronts
THE SOLUTION
After conducting an in-depth social media audit, and brand and competitor analysis, we framed our social media strategy to address the mothers and local audiences in addition to the broader buyer persona. We also allocated budgets to boost a selection of posts to widen reach and garner more impressions amongst certain audience sub-sets.
We implemented the following measures –
Crafted the content to primarily address the mothers to create a more empathic brand feel

Addressed the challenges faced by mothers in their daily lives of choosing the best for their babies and reflected on how Kabrita can help them

Adapted creative content in Arabic to address the local audience sub-set

Published captions in both English and Arabic to suit the target audiences

Created a lot of infographic-based content to educate about the benefits of goat-based formula in a creative and engaging manner

Created several videos to enhance the visual and informational appeal of the content

Conducted media shoots to build a localized brand library in order to efficiently address the target audience

Announced new product launches aligned with overall social media strategy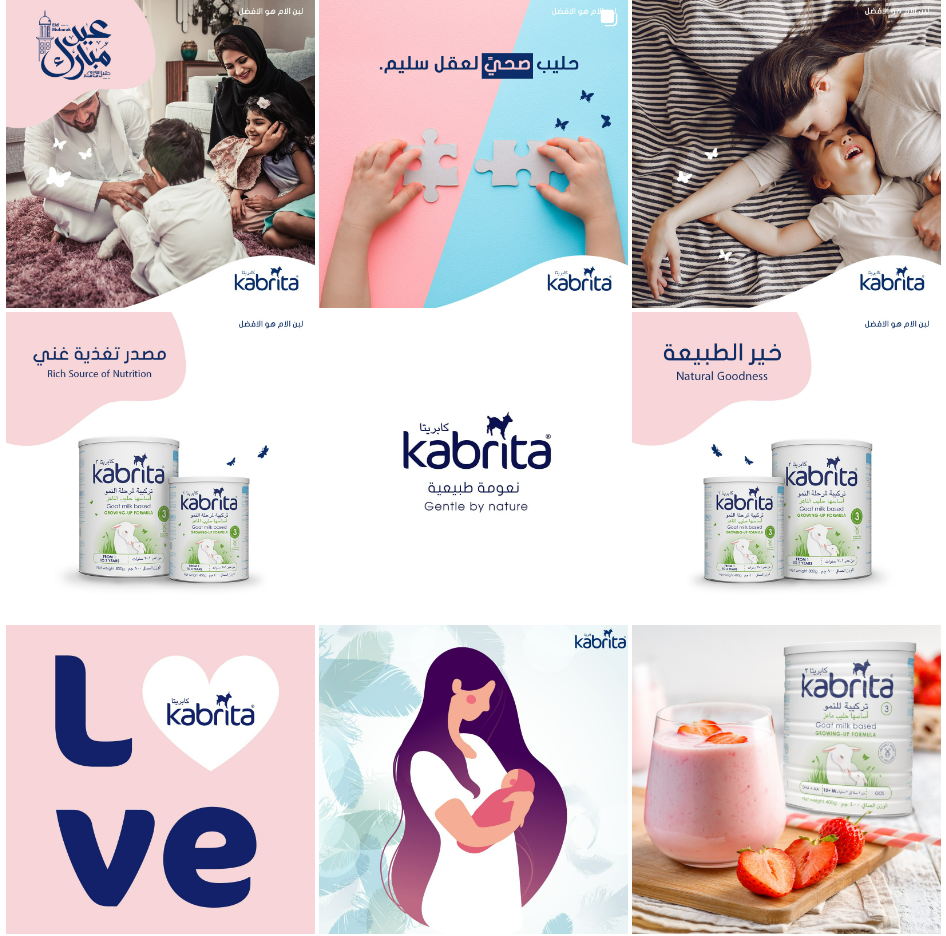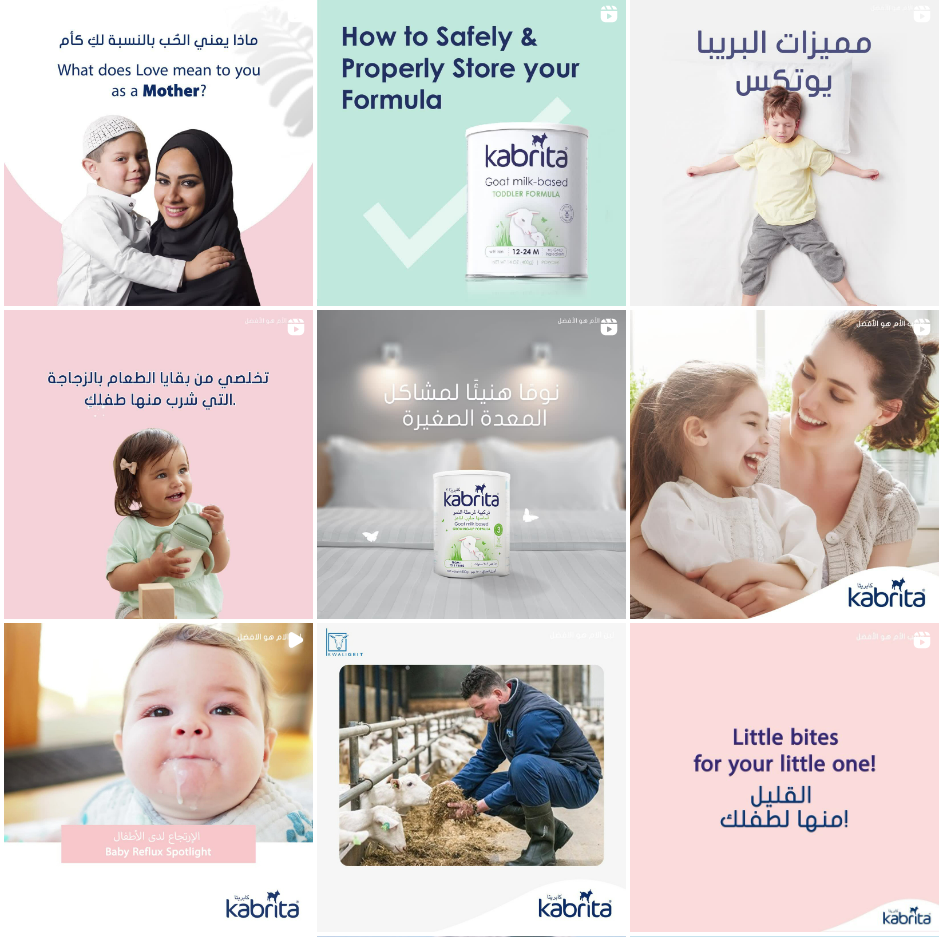 THE IMPACT
In a short period of time, we were successful in creating a pool of compelling content that not only positioned the brand as a favorable choice amongst its competitors but also humanize its identity by connecting with the audience. This was due to a proactive content and community management approach that dealt with queries effectively and offered information on all aspects.We started out by trying and testing various content approaches on internal focus groups to ascertain the most effective strategy that will engage the audience. We were successful in assessing the right content types and formats that resonated well with the audiences.
Here is an overview –
Increased the number of followers across all target channels

Increased engagement rates on various content formats and received 1.37% more engagement rate than its competitors in a very short time.

Garnered 865K more impressions than the food and beverage industry average.

Gained 19.48% more followers than the industry average by localizing content and building creative engagement strategies.

Effectively leveraged TikTok to produce highly engaging and shareable content pieces

Created a highly engaging and active community of mothers, some of whom were content creators, which built brand loyalty.

Contributed to increasing quality website traffic that resulted in expanding knowledge base about affiliated resellers and third-party shop fronts

Effectively utilized social media listening and community management practices to enhance brand image and Share of Volume (SOV)
Have an idea?
Let's Work Together
We can help you reach your goals – Let's start a conversation