Building Reach & Community At Every Step
Tommee Tippee is a feeding bottle and childcare brand based in Newcastle-upon-Tyne, United Kingdom.
Founded in the 1960s in the United States, the brand has a huge range of simple and intuitive baby products ranging from bottle feeding, breastfeeding, nappy changing, sterilizing, and baby soothing and sleep training.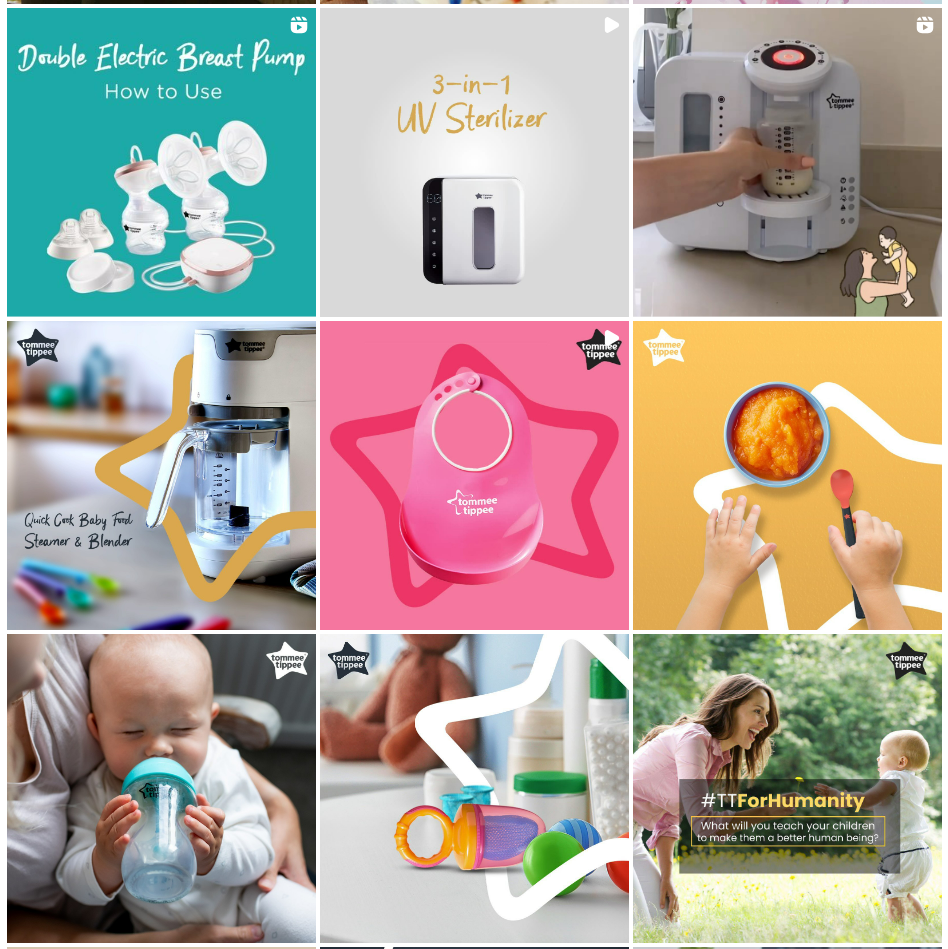 THE CHALLENGE
When the Tommee Tippee Middle East team reached out to us the UK team handled their social media and they needed someone with a firm grasp on the regional audience's interests and behavior. Their objective was to work with an agency that understood the needs of the local audience and could help them create and curate content to suit the cultural demographics and draw in their target audience.
The main challenge of this project was to adapt and curate the content to suit local preferences while affirming the brand's tone of voice. Since Tommee Tippee targets women as their primary audience section with their product portfolio, clear cognizance of the sociocultural norms of the region was paramount.
The objective was to-
Raise awareness about the brand in the Middle Eastern markets
Build brand consideration and recall amongst parents and caregivers, primarily mothers, about its product offerings
Build an online community of mothers, parents, and caregivers around the brand, with mothers being the primary sub-section
Curate aesthetic content that focuses on product benefits, high-quality and ease of use
Be soundly responsive to community management
Work with influencers to amplify the reach and awareness of the brand and to source user-generated content (UGC)
Increase product sales and brand affinity through original and curated content
THE SOLUTION
As per our strategy, we conducted an in-depth social media audit, and brand and competitor analysis, to frame our content plan. This included creating a set of audience personas to better position the content. We also designated budgets to boost certain content sets to broaden their reach and drive more impact.
We implemented the following measures –
Utilized the media asset library share by the UK headquarters of the brand to create a social media content calendar that matches the audience's interests in the middle east.

Crafted curated content for the local audiences as per the different product ranges

Adapted the UK-based content by localizing it to the regional markets

Created localized content in English and Arabic

Created content with a more empathic brand feel to enhance product benefits and address mothers as a primary audience set

Addressed the challenges faced by mothers in their baby-feeding journey and highlighted how Tommee Tippee with offerings like breast-feeding and bottle-feeding products are their best choice

Created a lot of infographic-based content to educate about product ease-of-use and other benefits

Created several videos to enhance the visual and informational appeal of the content

Executed a highly-engaging influencer-marketing campaign to broaden brand reach, improve resonance and create quality User-generated content (UGC)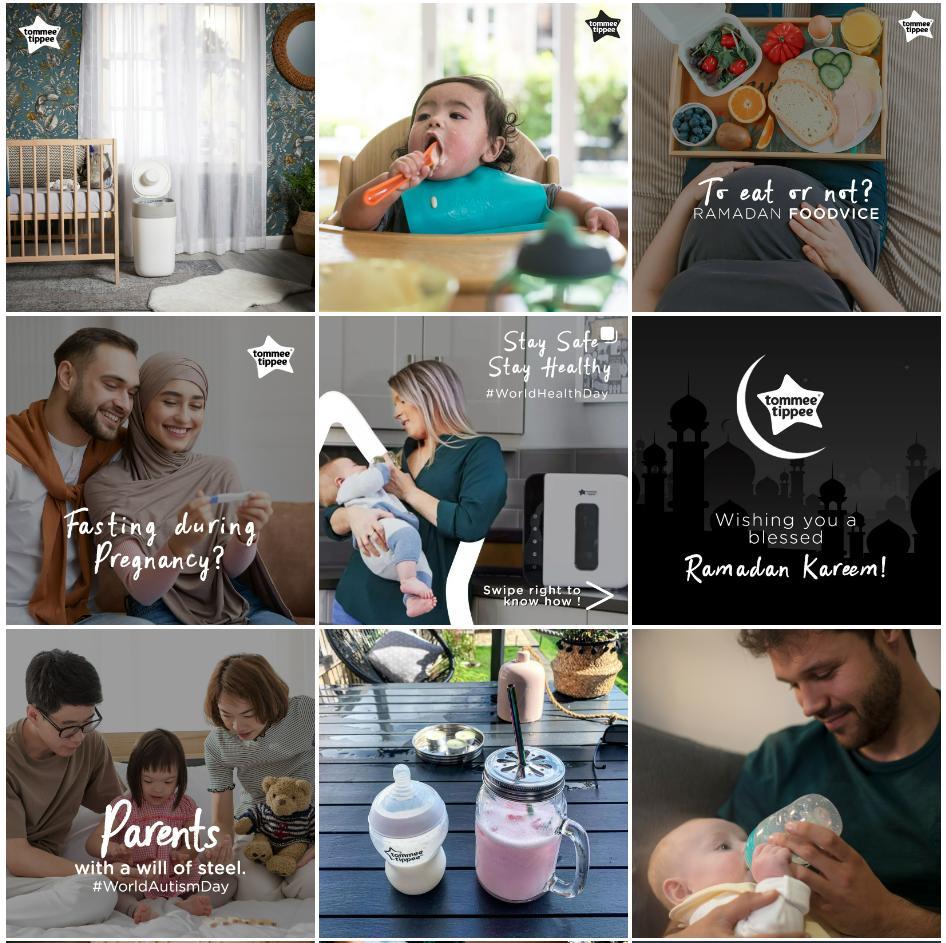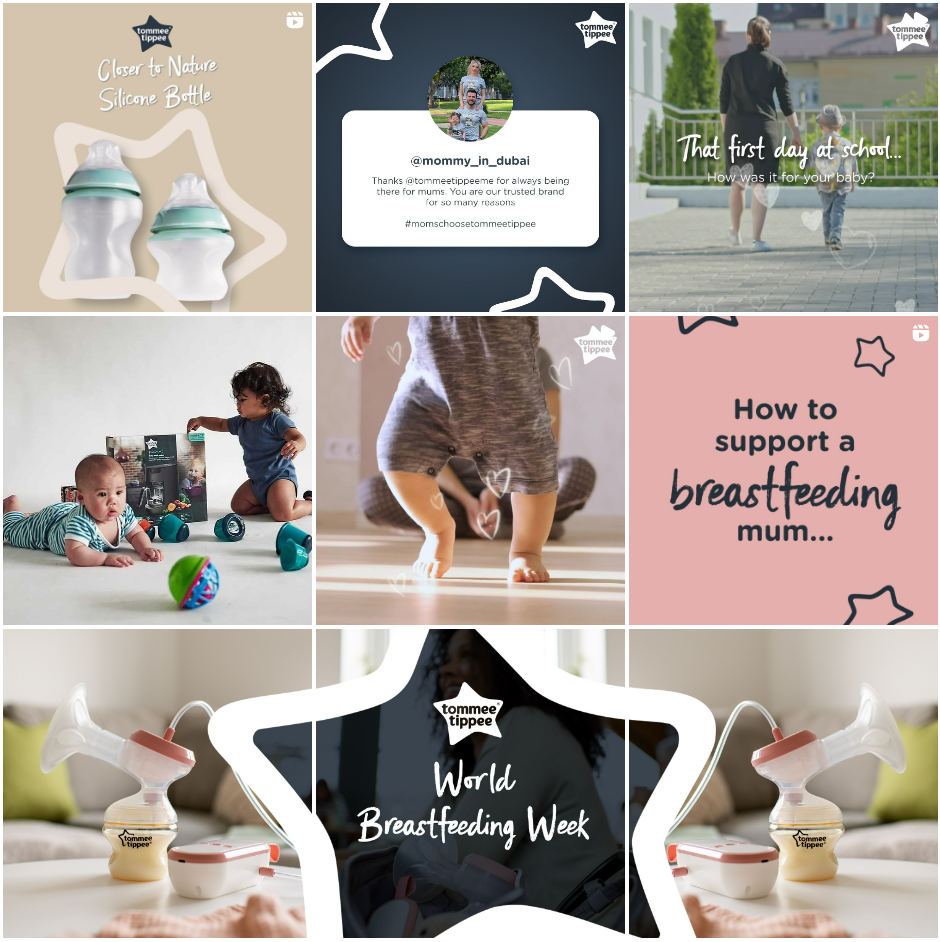 THE IMPACT
We started by trying and testing various content approaches on internal focus groups to ascertain the most effective strategy that will engage the audience. We successfully assessed the right content types and formats that resonated well with the audiences.
Here is an overview –
Increased the number of followers across all target channels

Increased engagement rates on various content formats

Consistently gained followers by localizing content and building creative engagement strategies.

Created a highly engaging and active community of mothers, some of whom were content creators, which built brand loyalty.

Successfully ran several online competitions that targeted young mothers and the winners were awarded best-selling Tommee Tippee products

Sourced online reviews in various content formats like IG reels, and stories from static posts from brand users which formed strong recommendations to the target audience

Contributed to increasing quality website traffic that resulted in expanding knowledge base about affiliated resellers and third-party shop fronts

Effectively utilized social media listening and community management practices to enhance brand image and Share of Volume (SOV)
Have an idea?
Let's Work Together
We can help you reach your goals – Let's start a conversation