The question of how to increase traffic to your website is common among a lot of online entrepreneurs. Perhaps you have also spent time and energy setting up your store and tweaking everything for a smooth launch, only to wonder where your website's branded traffic ended up going.
You may have observed that despite the consistent rise in sales, brand traffic has plateaued. Perhaps you have been successful with one traffic-driving tactic and are curious about what you can try next.
Websites are one of the most important aspects of running a successful business in today's world. The purpose of this is to allow you to establish and expand your business through an online presence.
The right tools can help you learn about your website visitors and convert them into customers or better, partners. Driving traffic to a website can pose a challenge to many marketers but it is possible.
Here are a few tips that will help you in increasing your website's branded traffic effectively –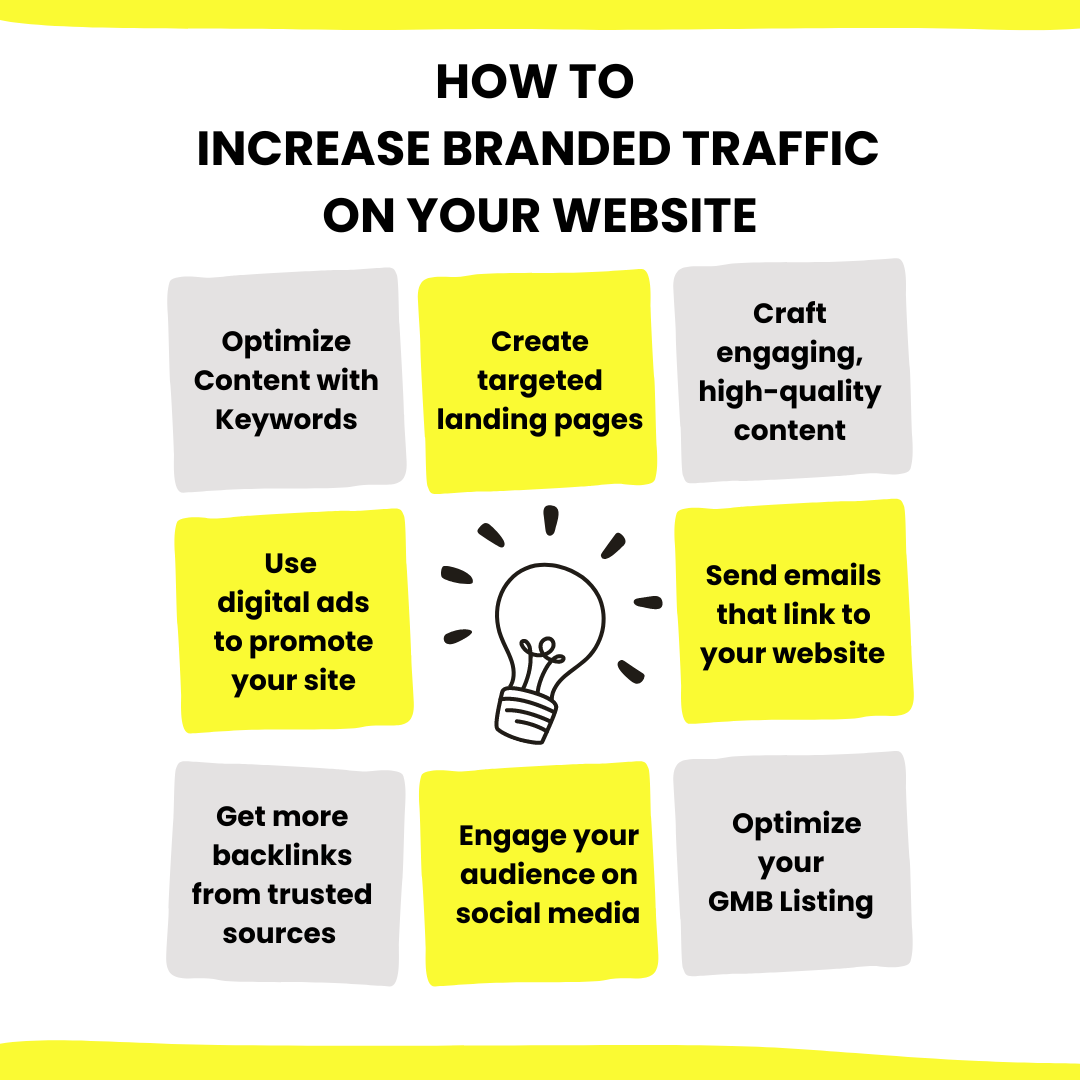 🔔 Optimize Your Content With Keywords
Search engine optimization (SEO) involves adding relevant keywords to your content. Search engine users can find websites by searching for words or phrases. This can result in several commercial partnerships. Identifying your website's search phrases can help you gain more visitors.
In some cases, you may only use specific terms, such as the name of a brand or product. There may also be unique features or advantages that you may offer, such as "all-natural," "free delivery," etc. Optimizing your website content can be made easier if you use the keywords your visitors have previously typed to find you. Google Analytics can give you pretty good insights on this.
Also, it is a good idea to observe the words your competitors use in their emails, on social media and on their websites. Google Search Console allows you to track how frequently your website appears in search results, which search terms bring in the most traffic, and how often people click on your website.
Here are some tips to help you maximize your SEO efforts:
Make your website findable– Ensure your website provides detailed descriptions of your services and their advantages so that search engines like Google and Bing can find you. Write a descriptive SEO title for your location website to make your business more accessible.
Leverage your website content —Leverage your website by drawing visitors by increasing your website's search ranks through the use of articles, blog entries, user reviews, and other material.
Optimize your visuals — Optimizing your images and videos for mobile devices can boost your Google rankings, even though search engines index words more highly than visual elements. You can make the search engine understand what the image is about by using the alt attribute on your photographs.
🔔 Create Targeted Landing Pages
A unique landing page with tailored content to their interests can help visitors interact with your website and ultimately with your business.
Utilize website analytics to create pages that showcase content that meets visitors' priorities. This may appear to be a special promotion based on the articles someone has been reading or updates on the latest features of a product they have been researching.
These types of tailored content can be incorporated into your ongoing marketing campaigns by assigning tags to your contacts. The use of tags allows you to display relevant content to contacts when they access your website.
🔔 Craft Engaging, High-quality Content
The most effective way to increase traffic to your website is to provide interesting, high-quality content that answers reader questions or provides solutions to problems. This will assist you in establishing your website as a market leader and the authority of your company.
Creating original, useful, and engaging content will benefit your SEO efforts. Optimizing your website content and receiving visitors will increase as your website ranks higher on search engine results pages.
The publishing of useful content can also lead to more returning visitors. This is because your readers will recognize the value of your information and how trustworthy it is.
🔔 Use Digital Ads To Promote Your Site
The internet is filled with ads for everything from online courses to sunglasses. The goal of these digital or banner ads is to direct visitors to a particular campaign's website or landing page. They are extremely effective since they are posted on blogs and websites aimed at specific audiences, like DIYers or outdoor enthusiasts.
Facebook and Instagram advertisements can be targeted to incredibly specific audiences based on age, gender, interest, and educational level. You can create and manage campaigns that target people who are actively searching for what you offer based on the information you have about their website activity.
Plan your paid media strategy with a consultant or agency to determine how long your ads should run and where they should be placed. An expert can advise on how campaigns can become more successful over time and what results to expect.
🔔 Send Emails That Link To Your Website
Driving traffic with email is a tried-and-tested strategy. The use of email as a form of outreach can be a very effective way for reaching out to your audience, educating them, and directing them to specific pages on your website. Mentioned below are two main types of email promotions:
Email Newsletters — Informational content and advertisements such as sales or events may be included in email newsletters. Email newsletters can direct viewers to your website so they can read an article or take advantage of a promotion.
Promotional emails — A promotional email may draw attention to a particular discount or occasion. If you have a shop, you might advertise a trunk show or wine tasting. A promotional email can also highlight recently posted films, services, or products.
The use of data-driven segmentation can be applied in both cases to identify the segments most likely to respond to your newsletter or offer.
🔔 Get More Backlinks From Trusted Sources
Backlinks allow users to visit a particular page on your website through links on another website. Higher search engine rankings are more likely to occur when you acquire high-quality backlinks.
Your website's authority rises as a result of backlinks, which tell search engines how popular your website is. When the backlink comes from an untrustworthy website, the opposite result can occur.
Backlinks are also crucial for your business for the following reasons:
A higher ranking on search engine results will attract more visitors to your website.
The development of consumer trust is supported by backlinks.
Backlinks will increase public awareness of your brand's existence.
🔔 Engage Your Audience On Social Media
Social media is a convenient platform to post articles, photos, and promotions that you host on your website. Apart from amplifying your message, social media can drive traffic to your website.
In the case of e-commerce websites, you can promote sales through social media and direct traffic to your website. You must choose the best social media channel for your message to share it efficiently. The approach you choose should depend on your business model and the audience you want to reach.
For promoting webinars or similar events, LinkedIn is a good choice, while Instagram is better for visuals such as product images. It is essential to link your social posts to targeted pages to ensure that users see what you want them to see.
🔔 Optimize Your GMB Listing
A Google My Business listing may be created for free and is fairly easy. As soon as you have a GMB listing, you may update your business's hours, special offers, and blogs that contain call-to-action buttons, videos, and more. Additionally, you can manage reviews, submit well-liked Q&As, and set up customer SMS messaging — all for free. Businesses with photo-enhanced company profiles get 42% more inquiries for directions on Google Maps and 35% more hits to their websites.
Here is more information on how important Google My Business is for your business's exponential growth.
Business owners must find time to promote their websites. A large part of your business' growth can be attributed to branded searches. Digital marketing strategies, such as local SEO, email newsletter, and digital ads, all work to generate more branded traffic for your site. However, increasing traffic to your website and elevating your brand takes expertise and the right strategy.
Contact us to learn more about how we can help your website attract quality traffic that leads to positive outcomes.
Got questions? Reach out to us