Reducing clutter, getting rid of wasteful expenditure and reaching out to more refined audiences is every paid search manager's modus operandi. Building on its goal to continually enhance relevant audience targeting through automation, smart bidding solutions and matching keywords to the meaning of a search, Google has surely reinforced their understanding of intent in order to make it easier for advertisers to reach target customers.
And, as 2021 is the unambiguously the year of new hope, where we make difficult things easy and complex things simpler, the search engine giant has followed suit through its latest update.
What is the new Google Update?
Last week Google announced that it will be phasing out its Broad Match Modifier (BMM) keyword match type permanently. This change will result in Phrase Match Type absorbing the search traffic generated by Broad Match Modifier, further fortifying its effectiveness.
How does that effect Paid Search?
Currently, advertisers reach out to their potential audience using the following keyword match types-
Broad Match – (max reach, min relevance)
Example: home of performance
Broad Match Modifier – (slightly lower reach, greater relevance)
Example: +home +of +performance
Phrase Match – (medium reach, medium relevance)
Example: "home of performance"
Exact Match – (min reach, max relevance)
Example: [home of performance]
With this new update, Google is expanding the phrase match type to include additional broad match modifier traffic, effectively eliminating the broad match modifier category. The changes will take place in the next two weeks and from July 2021, creating broad match modifier match types will no longer be possible.
So, what's in it for Paid Search Managers?
Well, for one, they will get the broad reach and refined relevancy in one single match type!! 
The update allows both phrase and broad match modifier keywords to have the same matching behavior, and trigger ads on searches that include the meaning of the target keyword, in addition to continuing to consider word order when relevant to the meaning.  So, not only will this change make it easier to reach relevant customers, it also will help in focusing on the searches you want and not fussing over unwanted search results that make you lose money. 
And, let's admit, it will also save some good time spent in streamlining keywords to the often-similar BMM and Phrase match types.
How about an example?
The update uses the following example to showcase the change. Here's how the keywords for "moving services NYC to Boston" (phrase match) or +moving +services +NYC +to +Boston (modified broad match) would be treated after the update is in effect: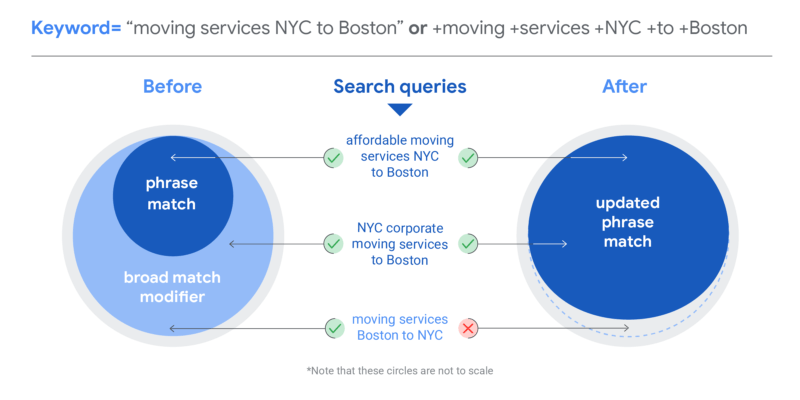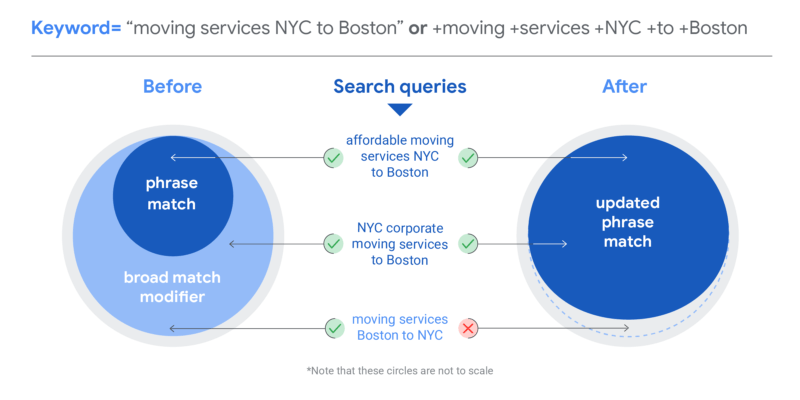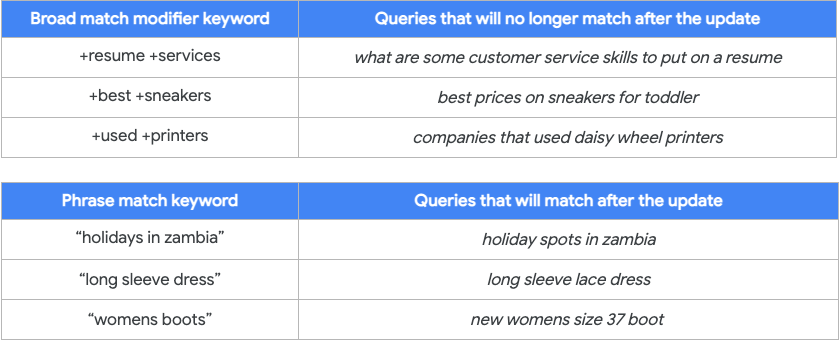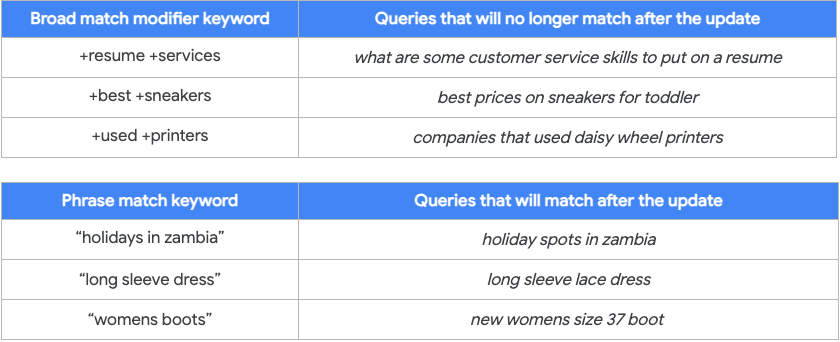 Your Takeaways
Phrase Match searches will now include traffic sourced through a Broad Match Modifier Match type
The word order will continue to be in effect when it's relevant to the meaning
The rollout will be globally complete by July 2021, after which advertisers will no longer be able to create new BMM match types. The existing ones will automatically adapt to the new behaviour
Since the update applies to both match types, there's no need to migrate keywords and advertisers will get to keep their performance data
This change will have no impact on negative keyword match types and Quality Score