There is no denying that Link building plays a big part in your SEO strategy. But the fact is that not every website that links back to your site is not worth it. It can affect your overall rankings, domain authority and performance when there are too many low-quality links associated with your website. The best practise is to reach out to the website publisher manually and try removing the low-quality links if that is not working the next best option is to disavow backlinks.
What is Link Disavowing?
As I mentioned earlier, disavowing links should always be your last option. Disavowing link is telling Google the particular link is harming your site in terms of overall performance. It doesn't remove the links, but signals google not to consider any link from that site when it comes to ranking factors. Don't prioritize disavowing across the board as it might hurt your own SEO.
5 Types of Links you need to consider disavowing
Bad backlinks come in different types. Although this doesn't include every type of link that you should disavow, the most common types that you have to consider as a starting point.
Forum Spam Links
Google doesn't encourage users linking back to random materials in forums or comments. If you think that this will help your backlink profile, you got this wrong. Say for example; in a popular forum like Quora or Reddit, if you try to flood with links back to your website without any context, Google will consider it as spam and penalize your website.
Expired Domain Links
If you have links that are coming from expired domains, this is a clear violation of webmaster guidelines and google can penalize you for the same. So if you have some backlinks that are coming from expired domains this is one category that you should seriously consider removing.
Low Quality & Spammy Site Links
Like the expired domain links, another category which you should consider disavowing is a low quality and spammy site backlinks. If you don't consider removing these links, there is a chance that your website is being targeted by a negative SEO attack. So it is always important to keep an eye on the search console on the actions required.
Directory Submissions
Submitting your link to low-quality is not a good practice to follow when it comes to SEO. But that doesn't say that directory submission doesn't play any part in the same. Always try to acquire links from relevant and targeted directories. Especially when it comes to Local SEO, if you can get relevant backlinks it definitely improves your overall SEO performance. Here is a list of relevant directories as per Hubspot.
Links From Cheap Link Building Services
This is another Link building tactic you should certainly avoid. Even though they are not part of google's guidelines, we suggest that you avoid this link building method. Links from fiver and other cheap link building services more often can do harm rather than proving beneficial to your SEO efforts.
Should You Disavow Backlinks?
This is a question that definitely needs clarity. If you get a manual action notification from Google or suspect one in the future, you should consider disavowing backlinks.
This manual action message could be a warning sign of bad links, spammy links and other unhealthy links to your website. To avoid this scenario always follow the healthy link building strategy, regularly check your backlink profile and check out for the suspicious links that may lead to negative SEO attack that will harm your website overall performance.
As mentioned in the beginning always follow the option of reaching out to the website publisher via email to remove the link directly. If that doesn't work out, consider disavowing the links if you come across the following:
You get a manual action message
Suspect a lot of spammy, low-quality backlinks to your website
A sudden drop in your performance due to these low-quality links.
How To Disavow Using Google Search Console?
As you know Google search console is an important tool when it comes to SEO. GSC helps you manually select the links which Google should ignore to avoid potential negative effects. But if you don't use it wisely for disavowing, it might affect you negatively.
Here are the steps for disavowing backlinks in Google Search Console:
Download the backlink profile
Conduct a full backlink audit
Create a disavow file and upload it to the google search console
1) Download the backlink profile
Before you start considering disavowing backlinks, find out the links that are harming your website. Use tools like Ahrefs, Semrush, Moz to download your backlink profile. By using these tools you can keep track of the backlinks.
2 ) Conduct a full backlink audit
Now that you have a backlink profile, conduct a detailed audit of the backlink profile to identify the spammy links that can harm your website performance. The Disavow tool helps to get rid of spammy and irrelevant links.
3) Upload the file in Google Search Console
After you have a detailed list of your link profile, you can consider removing the links. This isn't a too technical and complicated process. It can be easily done using the disavow tool in Google Search Console.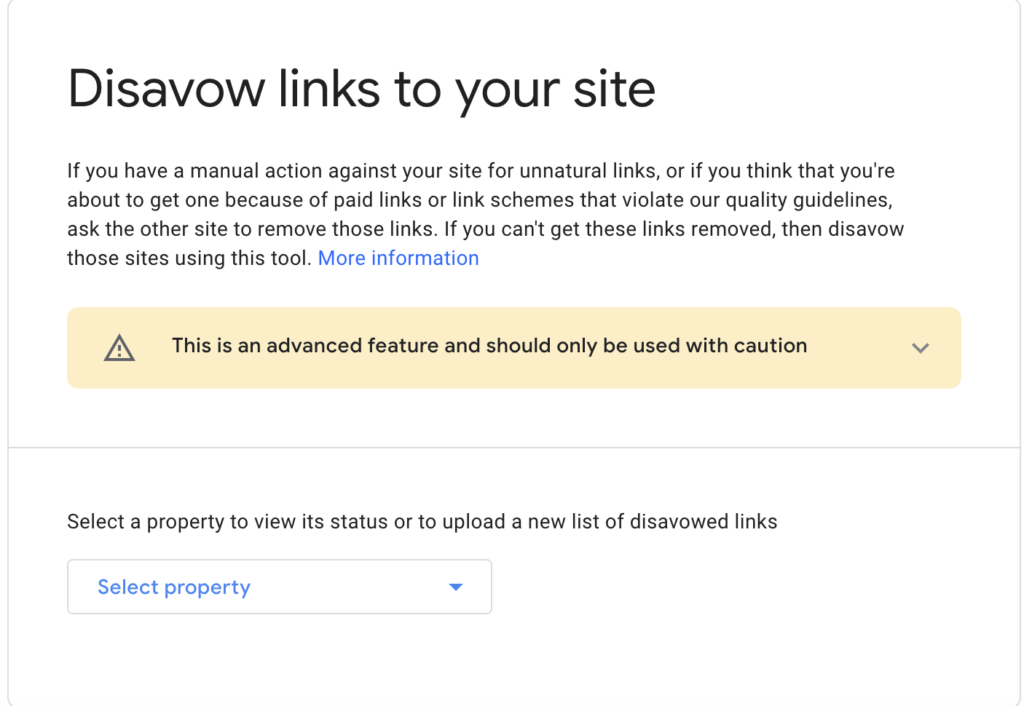 Go to Disavow tool in Google Search Console
Select your property
Upload your .txt file
To Conclude
As we say, when it comes to Link Building, Focus on quality rather than quantity of links. Be alert on the incoming links that can harm your site's authority and reputation. You can use tools like Semrush, Ahrefs or Moz to do regular audits. Disavowing should be done based on your priorities, overdoing it might do more harm than good for your site.
Got questions? Reach out to us.